4 WEEK VEGAN MEAL PLAN
£15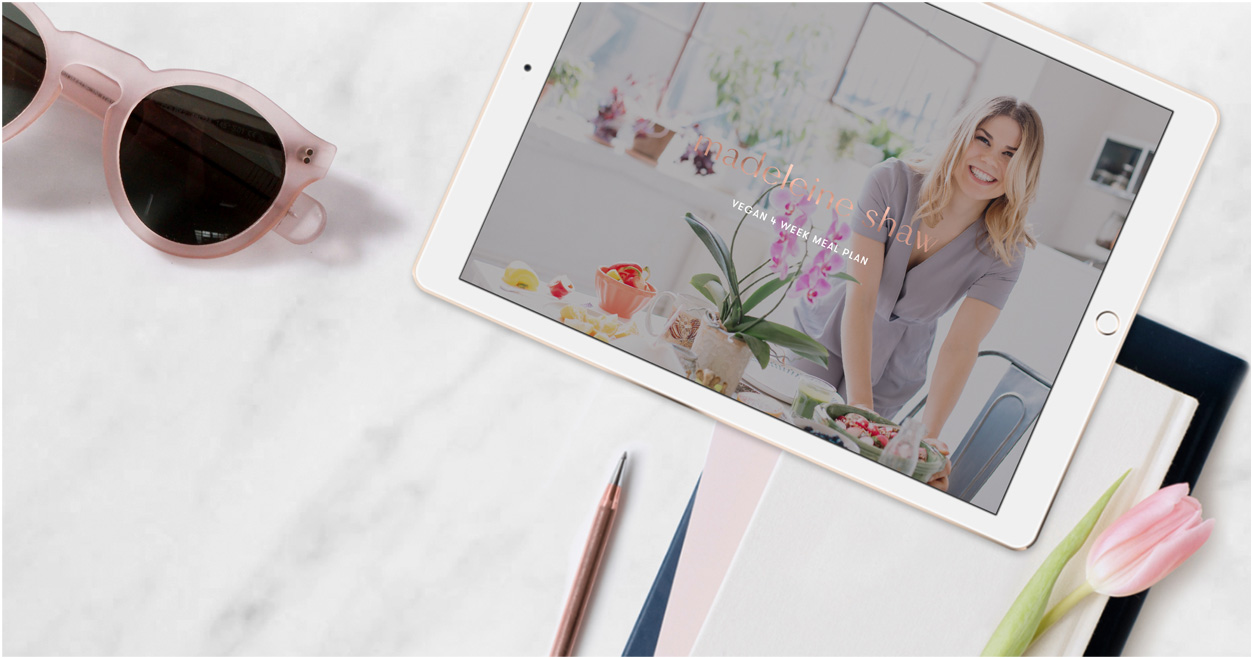 Dear plant-loving foodies, here's what's cooking.
Brand new! My Easy Vegan 4-Week Meal Plan
Follow a vegan diet, and want to make sure your nutritional bases are covered?
Not vegan, but interested in adding more plant power to your life?
Struggling to find whole-food, gluten-free, light-on-nuts-and-soy vegan recipes that aren't processed or bluhhh?
Want to take a four week vegan challenge to unlock hidden energy, calm digestion and make your skin gleam with health?
I've created something just for you.
It's my new Easy Vegan Meal Plan - four weeks of dietician-approved, non-dogmatic, lip-smacking whole food inspiration to make vegan eating a breeze.
It's juicier than a summer peach, with:
✔ Nutritionist-approved advice on meeting all your nutritional requirements - from B12 to iron and everything in-between.
✔ Four weeks of done-for-you shopping lists to remove stress, worry and time spent planning. (And not just what to buy - but how much, too. I've calculated the exact quantities you'll need of each ingredient because I know you're busy!)
✔ Four weeks of quick and easy vegan recipes - breakfast, lunch, dinner and snacks - to delight even the most stoic steak lover.
✔ Prep talks! I help you get excited and organised with meal prep and leftover tips to ensure you never go hungry (who wants that?).
✔ With recipes like Pimping Pear Porridge, Beetroot Soup with Toasted Chickpeas and Sweet Potato and Butterbean Curry, you'll never compromise on comfort, flavour or nutrition again.
I'm so excited to
share this with you.
Want to jump right in and start cooking up?
Grab your copy now.
(The healthiest £15 you'll ever spend.)
Want to learn more about the eBook? Keep reading.
Why I created the Easy Vegan Meal Plan eBook
For you! And people around the world, just like you.
It's the #1 request I receive - Help me embrace a balanced, delicious, energising vegan way of eating.
I hear you!
Because I'm a nutritionist (who believes that nourishing the palate and ticking all the health boxes is absolutely possible), I wanted to create a simple, easy, tasty guide to vegan eating that:
anyone can follow

sidesteps diet dogma and strict rules

avoids common nutritional pitfalls

is light on nuts and soy

is bursting with flavour

showcases how satisfying and sustainable plant-based eating can be

is 100% fail-proof. Simply follow the steps!
Not a vegan?
Me neither.
However, I think eating plants is beautiful - not to mention great for your bod. Plus, helping create positive change to the way we treat animals is even better.
Even if you don't identify as a vegan, you'll love the nourishing, tasty, fiber-rich and filling vegan recipes I've created for you.
(In fact, I'm munching a sugar-free, cinnamon-y Seedy Bar right now ;))
Want a taste teaser?
Here's a snapshot of the vegan delights you'll be whipping up in no time.
Almond Butter Porridge
Coconut Red Thai Curry
Mushroom + Cashew Stir Fry
Apple + Cinnamon Chia Seed Pot
Lentil Balls with Courgetti
...need I say more?
What else is inside?
My professional opinion and practical advice on:
Protein requirements
Getting enough B12
Accessing tricky minerals like iron, selenium and calcium
The best plant sources of omega-3 fatty acids, iodine and more
The exact quantities of all ingredients so you can shop, budget and cook with ease. It also reduces waste!
Want to unlock all the delicious Vegan goodness?
Can't wait to cook with you!
Madeleine xx
Hungry
for more?
Check out what others are plating up on Facebook + Instagram #veganeatswithmadeleine
Share your own plant-filled creations! #veganeatswithmadeleine
Tell me about your experience. I love hearing what's working, what's not, and how I can help.
Email me at info@madeleineshaw.com


Complement your mindful munching with my new 10-minute meditation series.
Have a look